Ryonet Offers Week Three Of Cyber Savings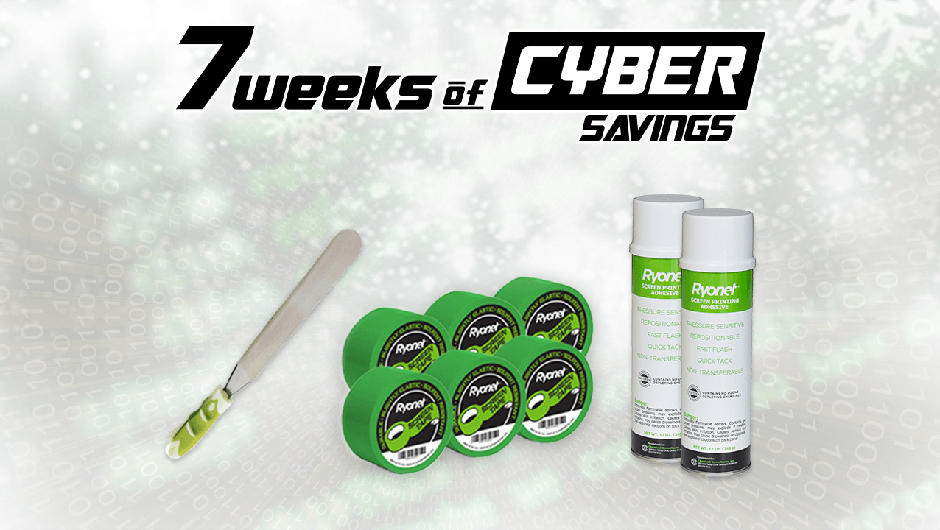 ---
Ryonet, Vancouver, Wash., enters week three of its cyber "Seven Weeks of Savings" program.
New deals are revealed each Monday and last through Jan. 1.
Starting Dec. 4, customers can save 25% all spatulas. Flexible ink spatulas are easier to use and last longer than standard plastic, and are ideal for mixing small quantities of ink, as well as for easy application on the screen, according to the company.
RyoMist screen adhesive spray in a two-pack is available at 20% off. It's specially formulated to securely adhere a garment or substrate to the platen for ease of printing without leaving a sticky residue, according to the company.
Ryonet Green Screen block-out tape is available in 36-yard rolls, in 2-, 3- and 4-inch widths at a 20% discount. This strong, durable, slightly elastic tape is designed to outlast many wipe downs, according to the company.
To find out what's on sale in the following weeks, click here. — J.L.
---
Ryonet, Vancouver, Wash., is offering screen-printing classes guided by industry veterans in a real shop.
FULL STORY
Monarch Color Corp., Charlotte, N.C., recently partnered with screen-printing ink, equipment and accessories supplier Technical Service & Supply, Salt Lake City, to expand its nationwide distributor network.
FULL STORY
Lawson Screen & Digital Products, St. Louis, now offers an educational, step-by-step video on setting up RIP software for printing screen-printing film positives.
FULL STORY