Ryonet Offers Creating a Color Library Video
Ryonet, Vancouver, Wash., offers a video showing how to create an Adobe color library using the Wilflex LAVA digital color chart.
In "Creating a Color Library for Wilflex Epic LAVA Inks," shown above, viewers will learn the simple steps for generating a color library, which enables quick, accurate coloring of T-shirt artwork for customer design mockups when printing with Wilflex LAVA inks.
The step-by-step tutorial also demonstrates color change and editing abilities, and offers tips and shortcuts. Plus, viewers will discover how easy it is to share colors with collaborators in Adobe Illustrator and Photoshop via the Adobe Creative Cloud library. — J.L.
---
SPSI Inc., Maple Grove, Minn., has announced the addition of Dave Gehrich to its Midwest sales team.
FULL STORY
Workhorse Products, Phoenix, now offers automatic press remote access through a web portal, which allows owners and production managers to track production and jobs on all automatic presses in real time from any Internet browser.
FULL STORY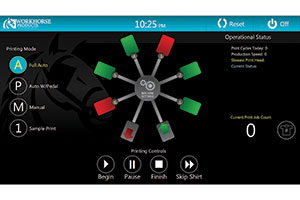 Ryonet, Vancouver, Wash., is offering screen-printing classes guided by industry veterans in a real shop.
FULL STORY