SGIA Announces THREADX 2018 Speakers
Specialty Graphic Imaging Association (SGIA), Fairfax, Va., has announced an expanded lineup of speakers for THREADX 2018, to be held Feb. 25-28 in Palm Springs, Calif.
THREADX is an event designed by and for garment decorators. Previously announced THREADX speakers include Johnny Earle, CEO and founder, Johnny Cupcakes; Ricardo Crespo, chief operating officer, Th13teen; Rob Kramer, chief technology officer, Custom Ink; and Tim Williams, CEO and founder, YR Store.
Just-announced additional speakers include Brandon Barber, director of manufacturing, Vapor Apparel; Mark Coudray, owner, Coudray Growth Technologies; and entrepreneur Mel Lay, SandiLake Clothing, who appeared on ABC's "Shark Tank."
Barber brings expertise in daily operations with his oversight of spot-hit sublimation, screen printing, direct-to-garment printing and cut-and-sew. He also has supervised the development of Vapor Apparel's print-on-demand business for Amazon and other online marketplaces.
Well known for his business innovation and strategy, Coudray — who started his first company at age 19 — has helped companies adapt to significant changes and disruptions in the specialty printing and decorated apparel industries.
With just a screen-printing press and the guidance of YouTube how-to videos, Lay started SandiLake Clothing from her garage when she was unable to find simple, modern clothing for her young children in mass-market retail outlets. Within a few years, she expanded her business and pitched her brand on "Shark Tank," and now has her own storefront and a busy website.
"THREADX isn't a 'how-to' conference for garment decorators," says Sarah Perkins, SGIA's director of community development. "Its focus is on the effect of today's consumer culture on the industry. We'll provide a high-level view of e-commerce optimization, consumer trends, social media, branding and more."
Greg Kitson, a 30-year SGIA member and 2017 chairman of its Garment Decorators Committee, touts THREADX 2018 as not just another seminar.
"The SGIA Garment Decorating Committee has invested hundreds of hours of research determining how world-class information is being distributed in this century and decade," he says. "The two-day retreat model was determined to be the best method of presenting the maximum amount of actionable e-commerce educational information while stimulating networking between presenters, decorated-apparel business professionals and select vendor/sponsors in this proven format."
"A dozen speakers 'from the other side' have been chosen to educate us ink slingers on how they plan to do, and are currently doing, e-commerce in the 2020s,"Kitson adds. "This should give attendees insight into the language and terminology of this new way of engaging decorated apparel customers."
SGIA members will receive a 25% discount on the $1,200 registration price. Register for THREADX 2018 by clicking here. — J.L.
---
GSG, Dallas, has appointed Clark Lanius as the branch manager of its Baton Rouge, La., location.
FULL STORY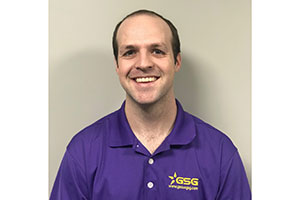 Blue Moon Promotional, Eastlake, Ohio, has established a GoFundMe campaign for the family of Wilson Reyes, the company's former director of social media.
FULL STORY
GroupeSTAHL, Sterling Heights, Mich., has appointed Carleen Gray as its new chief executive officer.
FULL STORY