Fruit of the Loom Donates Clothing to Houston Residents
Fruit of the Loom, Bowling Green, Ky., is donating nearly 1 million pieces of clothing to Houston-area residents who were affected by Hurricane Harvey.
Donations such as clothing and underwear are needed, as thousands of
residents still are displaced. Fruit of the Loom is sending two semi-tractor trailers full of essential clothing items, such as underwear, T-shirts, sweat shirts and sweat pants.
The products will come from the company's distribution centers in Montgomery, Ala. and Palmetto, S.C., and will arrive in Houston early next week. — J.L.
---
Gildan Activewear, Montreal, recently announced fourth-quarter sales growth of 11.2%, while reported earnings for the same period fell 24%.
FULL STORY
Threadfast Apparel, New York, recently won alphabroder's 2017 Supplier Innovation Award.
FULL STORY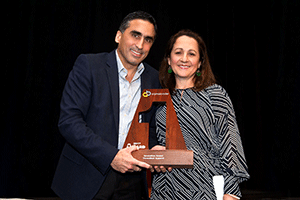 Atkinson Consulting, Gilbert, Ariz., has released a new eBook, "Basic Shop Info Pack," that contains information and templates for shops to reach new levels, according to the company.
FULL STORY