Epson, CIT Announce Partnership
Epson America, Long Beach, Calif., and CIT Direct Capital, Portsmouth, N.H., the national digital small-business lending unit of CIT Group, today announced a partnership to offer financing for commercial and digital print customers. 

This partnership will allow CIT Direct Capital to provide Epson dealers, channel partners, resellers and customers a primary source of financing through a single point of contact. This will simplify Epson's financing process by streamlining communication between equipment manufacturers, dealers and funding sources, creating a more straightforward customer experience, according to the company.
"CIT is pleased to provide Epson dealers with a single online finance solution that enhances the customer experience," says Mark Boyer, vice president of business development, CIT Direct Capital. "By maximizing efficiency and providing greater transparency on transactions, dealers can focus more attention on their clients and business objectives."
The partnership allows Epson dealers the capability to provide a uniform online finance option through CIT Direct Capital, delivering better insight into the sales pipeline and increased transparency on transactions, according to the company. Financing through CIT Direct Capital is a tech-enabled process, allowing customers to apply online. — L.V.
---
Threadfast Apparel, New York, recently won alphabroder's 2017 Supplier Innovation Award.
FULL STORY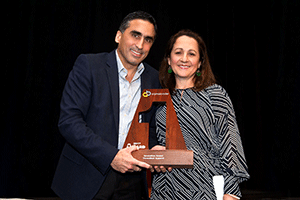 Atkinson Consulting, Gilbert, Ariz., has released a new eBook, "Basic Shop Info Pack," that contains information and templates for shops to reach new levels, according to the company.
FULL STORY
InkSoft, Tempe, Ariz., now offers simple, secure credit and debit-card payment acceptance at low rates via a partnership with CardConnect.
FULL STORY