Stitch It Intl. Receives SWF Distributor Award
---
Stitch It Intl., Patton, Mo., recently received a performance award from SWF manufacturer SunStar at the company's Korea headquarters.
Stitch It Intl. is the second-largest global distributor for SWF embroidery machines, and has been the official United States distributor since 2016. During the luncheon, Stitch It executives not only received the performance award, but administrators from both companies also discussed further plans for the future of their partnership.
Stitch It's Brent and Kyle McMinn met with SunStar's chairman Byeong-Jun Son, who also is chairman of Mobase, a Samsung supplier that provides technological expertise and financial backing to SunStar.
The discussions included how to develop business strategies, and work with research and development on U.S. specifications. The McMinns gave input on USA embroidery machines' needs and requirements. This guidance will help SunStar alter necessary designs and mechanisms so that a quality SWF product will continue to be brought to the U.S. market, according to the company.
SunStar also previewed its latest 2018 machine model, which will include higher performance and be more efficient when embroidering projects for users, according to the company. Given Stitch It's U.S. distribution success with SWF embroidery machines, the companies revealed they are considedring expanding distribution to Mexico in 2018 and the rest of North America in the future. Additionally, SunStar expects to relocate its headquarters to bigger offices in Incheon, Korea, soon. — J.L.
---
World Emblem, Hollywood, Fla., recently announced its Mexico office passed the Sumerra social compliance audit with a perfect score.
FULL STORY
GSG, Dallas, now offers the new ZSK Sprint 7, an 18-needle, bridge-style machine with vibration-free sewing and the ability to sew up to 1,200 stitches per minute.
FULL STORY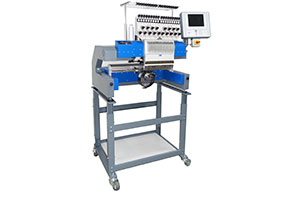 InkSoft, Tempe, Ariz., has added a new embroidery-focused technology to its online sales software program.
FULL STORY