Stahls' TV Offers Free August Webinars
Stahls' TV, Sterling Heights, Mich., has announced its free webinar lineup for August, which will cover topics from new and advanced decorating techniques and products to boosting sales without adding staff.
Whether starting out in apparel decorating or continuing to build a business, Stahls' TV has a wealth of resources, such as live webinars, videos and archived educational sessions that cover a wide range of topics, from how-to, marketing and business basics to advanced techniques and new technology. A blog and weekly Monday morning Stahls' TV show are designed to keep you in the loop on breaking industry news and trends, according to the company.
Stahls' TV Morning Show
Every Monday, 11 a.m.-11:45 a.m. EST
Find out the latest industry buzz, new product and decorating ideas, and business strategies to stay of the competition.
How To Create A School Spiritwear Fundraiser
Aug. 10, noon-1 p.m. EST
From heat printing school spiritwear to creating sales fliers for fundraisers, Courtney Kubitza shows the best practices on how to get started.
Heat Press For Profit: How To Get Started
Aug. 17, 2 p.m.-3 p.m. EST
Participants can get informed on what they should look for in a heat press and vinyl cutter to make the most out of their apparel-decoration businesses.
Seven New Ideas For Your Team Business
Aug. 24, noon-1 p.m. EST
The fall sports season is nearing and it's time to fire up the heat press. Courtney Kubitza offers some new and exciting ideas to give businesses a competitive edge.
Craft Corner Live: Heat Printing Nonapparel Items 2.0
Aug. 29, noon-1 p.m. EST
Using just a heat press or home iron, Jenna Sackett shows how to get creative when customizing home décor items such as wall art, welcome mats, "farmhouse"-style décor and other unique household accessories that can yield high profits.
See further detailed class descriptions, updates and registration information.
---
Transfer Express, Mentor, Ohio, is offering a free 30-day trial for decorators to become dealers.
FULL STORY
Brother DTG, a division of Brother Intl. Corp., Bridgewater, N.J., has released a new ink series with a larger color gamut and more eco-friendly packaging, according to the company.
FULL STORY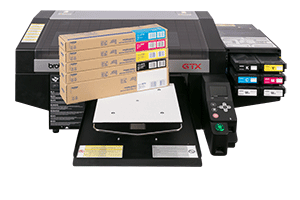 OKI Data Americas, Irving, Texas, recently named Johnson Plastics Plus, Minneapolis, as its preferred partner for the North American print-for-pay franchise market.
FULL STORY