OKI Data, Johnson Plastics Plus Announce Partnership
OKI Data Americas, Irving, Texas, recently named Johnson Plastics Plus, Minneapolis, as its preferred partner for the North American print-for-pay franchise market.
The partnership makes Johnson Plastics Plus OKI's primary reseller of its entire portfolio of industry-leading textile-transfer printers, and incorporates OKI's technology into Johnson Plastics Plus' full line of heat-transfer products. OKI and Johnson Plastics Plus will provide print-for-pay franchises in the United States and Canada with the technology, service, support and training needed for all aspects of the heat-transfer business.
"As printing businesses across the country combat online competition and find ways to build new revenue streams with new or existing customers, there is a tremendous amount of growth potential in the heat-transfer segment for textile decorating," says Rich Egert, general manager, strategic new business unit at OKI Data Americas. "While this space is highly lucrative and represents a relatively small investment in terms of money, time and space, we recognize that there can be a learning curve to mastering unfamiliar operations or new lines of printing solutions. As such, we are extremely pleased to partner with Johnson Plastics Plus – a company with a renowned legacy, significant international footprint, strong leadership team, on-the-ground customer support and deep industry expertise – in providing customers the technical training needed to succeed in the heat transfer business."
Johnson Plastics Plus will be the preferred seller of OKI's textile-transfer printers for the print-for-pay market, including the C711WT digital printer, which prints color-plus-white on transfer media; the C831TS, a compact printer designed specifically for T-shirt and apparel decorators that produces graphics and text for transfer sheets for a variety of fabric substrates; the Pro6410 NeonColor printer, which enables users to print bright, fluorescent colors on dark and light transfer media; and the Pro8432WT HD-quality color heat-transfer printer with white toner and CMY color for apparel, hardgoods and other materials.
Johnson Plastics Plus introduced OKI's line of textile transfer products into its lineup last month at the SGIA Expo in New Orleans, and the company will provide customers with necessary product training, as well as full technical and local support.
"OKI has been the clear technology pioneer in the heat-transfer business, helping shape the market into the dynamic space that it is today," says Mike Johnson, president, Johnson Plastics Plus. "Throughout our conversations over the past six months, it became clear that OKI's products and capabilities are the leaders in the transfer market. By pairing OKI's deep printing technology advantages with our expertise in customer service, and existing heat-transfer product and services portfolio, we will be able to serve the print-for-pay market with unprecedented consistency in service and pricing, from the smallest family-owned shops to the large corporate headquarters." — J.L.
---
Stahls', Sterling Heights, Mich., now offers AquaTru Dye-Block stock numbers.
FULL STORY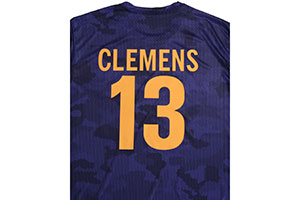 Epson America Inc., Long Beach, Calif., along with Jefferson University's School of Design and Engineering, recently released a video exploring the future of digital fabric.
FULL STORY
Brother DTG, a division of Brother Intl. Corp., Bridgewater, N.J., announced its GTX direct-to-garment printer was recognized as a European Digital Press Association (EDP) Awards winner during FESPA 2018 in Berlin.
FULL STORY