Brother Introduces New Label Printer Series
Brother Intl. Corp., Bridgewater, N.J., has introduced new Brother QL-800 series label printers.
The Brother QL-800 series addresses the need for two-color label printing in numerous industries, according to the company. The technology allows users to print red and black over the entire printable area of a label.
Users can create labels with both black and red text up to three feet in length via both wired and wireless connectivity. Additionally, the technology is easy to integrate and manage on a network using Brother's network management tools and free software development kits (SDKs), according to the company.
"With the existence of mobile and the continued growth of smartphone adoption worldwide, incorporating on-the-go labeling solutions is key to ensuring seamless operations in today's business environment," says Robert Brady, QL product manager for Brother Intl. Corp. "Whether you're a retailer looking to convey special pricing quickly or a food manufacturer seeking to print Made-Ready-Discard (MRD) labels, the new Brother QL-800 series is the perfect fit."
The series has received multiple industry awards, including the 2017 North American Office Products Award (NAOPA) for the Best Technology Product for the Brother QL-820NWB, and PCMag Editors' Choice awards for both the Brother QL-800 and QL-820NWB. — L.V.
---
OKI Data Americas, Irving, Texas, attended the "Keep AG Wired" National AlphaGraphics Conference, held Aug. 2 in Austin, Texas.
FULL STORY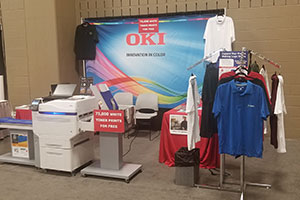 Mimaki USA, Suwanee, Ga., recently celebrated the grand opening of its new Midwest Region Technology Center in Franklin, Wis.
FULL STORY
Mimaki USA, Suwanee, Ga., recently announced the availability of the new Tiger-1800B MkII digital textile printer.
FULL STORY