The Facets of Fleecewear Embroidery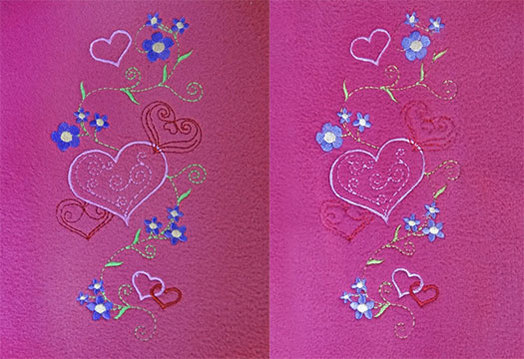 Topping helps thdesign sit "above" the nap of the fleece, making detail and color easier to see (left), and preventing stitches from "sinking" into the fleece (right). Photo courtesy of Madeira USA; design by Dakota Collectibles; embroidery by Nancy Mini.
---
Has athleisure taken over as the new fleecewear when it comes to challenging embroidery? Probably so, since most of the questions we get from embroiderers revolve around the difficulties of dealing with the slinky, stretchy, slippery stuff. But there was a time when fleecewear was the culprit. How do you keep the stitches from sinking into the pile? How do you accomplish fine detail with all that pile? Which stabilizers work best and what is this topping stuff, anyway? With the growth of all types of activewear pushing fleecewear sales, along with its comfort factor, affordability and light weight warmth, it's worth a review of how to get the best results when embroidering on fleece.
First Fabric, Then Branding
Fleece first entered the market through the home décor sector, as velour that was used for upholstering furniture. It is a knitted fabric made from two types of yarn that is brushed on one side in order to create nap. Once the brushing produces a shaggy, uneven nap, it is sheared to the desired length. The napped surface can appear on the outside, as in activewear jackets and vests, or on the inside of sweat shirts and sweat pants.
It is the brushing step that elongates the fibers, "filling in" the spaces in the weave, which delivers a fabric that is warm, soft and durable. It is usually made from man-made fibers, at which point it can be treated for wicking properties, making it the ideal candidate for apparel used in sports, training and outdoor wear.
With the preponderance of fleecewear,  sweat shirts and pants on the market and on playing fields, they represent a large and popular segment of the embroidery market. Even though fleece is a knit, it is a sturdy knit, supplying a surface that, once properly stabilized, is able to hold designs with relatively high stitch counts. Embroiderers need to know a few basic considerations when embroidering on fleece in order to present their customers with amazing, come-back-for-more results that will have others asking, "Where did you get that done?"
Before you Begin
When given the task of embroidering on fleecewear or sweat clothes, backing, topping, hooping and type of design will all influence your choices. The correct choices will result in stellar embroidery, while the wrong ones will leave your customer disappointed. Here are the elements to keep in mind when faced with fleece:
1. Design
When executed properly, you might be amazed at the intricate designs that can be accomplished on fleece. Even specialty threads like 60 weight for very small letters and detail, or metallic for a unique, elegant look, can be used on fleece. You simply need to help those stitches remain visible and sit on top of the nap, instead of letting them sink into the soft, thick fabric and getting lost. Designs with thin elements or logos with small lettering will need a solid base, and you may need to sew a standard area fill using a zig-zag underlay stitch in the same color of the fabric before embroidering for all or part of the design. This will give a smooth, supportive surface — above the nap of the fleece — for the detail or lettering to "sit" on. Another option would be to create a light-density fill at opposing angles in order to create a "net" effect that would trap down the fibers of the fabric.

2. Stabilizing Top & Bottom
A water soluble topping placed on top of the garment before embroidering will help to stabilize the garment, pushing down the nap so that the stitches sit above them and do not get lost. The topping can easily be removed with a light spray of water or steam. This virtually melts the topping and it will shrink into removable globs. To remove, take a wadded up scrap of topping, moisten it with water or steam, and dab on any remaining bits of topping. You'll find that those small holdouts will adhere to the topping wad you created. Think of this as the "bubble gum method" of topping removal, since gum, too, tends to stick to itself.
While fleece is a pretty sturdy fabric, it also is a knit, and needs to be stabilized with a backing when it is hooped. Choose a stable, medium weight cut away if there is stretch to the fabric. If the fabric doesn't have any stretch, you could get away with a wash away, which will stabilize the garment during stitching, and then disappear after a few launderings. Always make sure that if you embroider a large design, and you are using a cut away, to trim the backing away, rounding corners, up to a half an inch away from the edge of the design.
3. Hooping
Select a hoop that is slightly larger than the design, since the smaller the hoop, the easier it is to stabilize the fabric to be embroidered. Sandwich the garment between a sheet of topping and backing below it, and hoop all three together. Take care not to over-stretch a fabric that has stretch in it. While hooping, pull in the direction of the least amount of stretch.
A few tips to use to make sure the garment is properly hooped are to run your finger lightly over the hooped fabric; if you see a ripple, then the fabric is too loose in the hoop. Another tip, it should be difficult to pinch the fabric with your fingers and pull it up away from the backing; if you can do this easily, the hooping is too loose. Depending on how dense or fragile the fleece fabric, you may see a mark where the hoop held it taught. Removing the topping with steam or a light spray of water, also applied to the "ring" around the design will help to eliminate it.

Alice Wolf is the manager of education and publications for Madeira USA. She began doing marketing and public relations for the art industry in New York, then migrated north to Madeira's New Hampshire headquarters. For more information or to comment on this article, email Alice at awolf@madeirausa.com.
---
Make the right choices when embroidering fleecewear for first-rate results
FULL STORY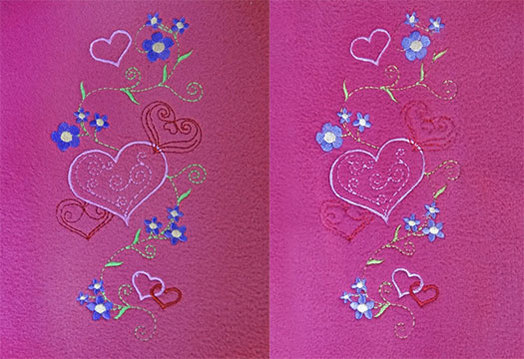 Learn the ins and outs of embroidering garments in this popular apparel category.
FULL STORY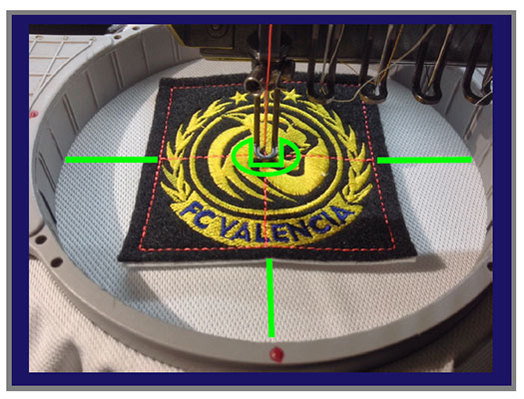 Tips for embroidering between-size garments
FULL STORY