Build Your Business: Trends

---
Simple Tees Add Style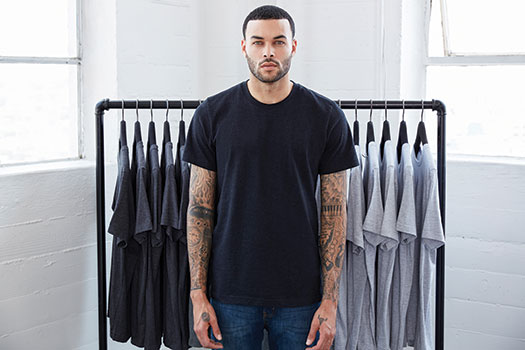 For men, the crew remains the most popular neckline. Photo courtesy of BELLA+CANVAS.
---
Comfortable, easy to wear and accessible, the T-shirt is an icon in the wearables industry. With its appeal transcending gender, age and cultures, this staple apparel item has a spot in every customer's closet.
Beyond its versatility, the T-shirt also is a quintessential marketing tool, helping businesses and organizations promote their brands and ideas.
"[The T-shirt] is a great billboard for messaging, whether your message is something important that changes the world, you're advertising a product or you want to memorialize an event," says Mark Seymour, chief sales officer, Next Level Apparel. "It's really a powerful medium in today's society."

Redefining Basic T-Shirt Styles
The T-shirt has maintained its prominence in the decorated apparel industry over time, as the garment constantly evolves alongside fashion trends and consumer preferences.
"Companies are constantly trying to be innovative and unique in what they offer in a T-shirt — from different cuts to different finishes — which results in its staying power in the industry," says Nabeel Amin, president, Lane Seven Apparel.
In recent years, the market has redefined the basic tee, with the "value blanks" of the past leaving more to be desired among customers.
"There was a time when the cheapest white T-shirt was what represented value," Seymour says. "Today, value is around the quality of the shirt."
Ken White, vice president of sales, Cotton Heritage, also has seen this shift in the market. "People are looking for a garment that feels good, has a soft hand, and has updated details in styling, fit and collar treatments," he says.
While the classic basics always will thrive, it seems customers are craving more innovation in blank tees — from unique silhouettes to fresh fabrics and colors.
Fashion-Forward Apparel Design
Setting the precedent for innovation in T-shirt design and fabrication, the retail industry determines which beyond-basic details clients demand on the wholesale level.
"Styles that are featured on the runway or in high-fashion stores eventually reach [the] end user's eye," says Elyse Bonner, marketing director, Simplex Apparel. "The right client is going to want to have the right body or spec, and fashion and retail will always [spark this interest]."
Suppliers are working to accommodate customers' new sensibility about value with products that offer retail-level style and quality.  "[Clients] want something different from the typical white, crew-neck tee they often see, and they want it at a high quality and a low price," says Summer Barry, brand manager, BELLA+CANVAS.
Beyond price, suppliers also must consider style sustainability when incorporating fashion details into their offerings. "One of the things you hear on the retail side is 'fast fashion,' and that's a little bit of a misnomer in our business because we don't just want what's trendy; we want sustainable trendiness," Seymour says.
The key, he says, is to look at the retail landscape as a whole. "We're always trying to pick and choose those things that aren't just going to come and go as a fad, but will be around for a long time."
T-Shirt Fit & Features
Today's T-shirts feature on-trend styling, while still offering the classic sensibility for which the garment is known.
"Specialty silhouettes, such as long body, raw neck and muscle tanks, will be largely requested for fashion customers [in 2017], while the classic pocket tee, crew-neck [tee] and racerback tank [will] dominate for customers looking for a more traditional approach," Barry says.
For women in particular, a trend toward "boyfriend-style" tees is sweeping the industry.
"[These styles are] really growing in popularity, driven by a younger demographic in high school and college," Seymour says. "It's about the freedom of choice and the freedom to wear something that's comfortable, but still very stylish."
With larger, longer and boxier cuts, these youth-inspired silhouettes are a reversal of the form-fitting garments traditionally offered for women.
Variety also is key for women's tees, and many suppliers offer styles in multiple neckline options, from boat to off-the-shoulder necklines, V-necks and modified scoops. Dolman sleeves remain popular and new, folded-sleeve looks will be seen across supplier offerings this year.
Fueled by the athleisure movement and an urban look advanced by the music industry, long-body styles currently have prominence in the men's market. "What has staying power for us is a shirt that's cut correctly [in] the sleeve and shoulder up top, but has length to it," Seymour says. "Length is very important and stays important for that shirt."
While suppliers are in resounding agreement that the crew-neck tee will continue to be the most in-demand for men, V-necks have seen a surprising spike in the industry.
"At one time, the V-neck was sort of taboo," Seymour says. "That's not true anymore. We see [its popularity] grow in proportion in the overall market each year. We used to see it be a little more specialty — now we see large orders come through."
Beyond sleeves and necklines, customers will crave unique details that indicate retail quality. "We are looking at details such as drop tails, longer lengths with scalloped bottoms," White says. "Side vents and detailed stitching all add value to the T-shirt."
T-Shirt Fabric Evolution
While the T-shirt market has seen growth and shifts in customer preference across the board, perhaps the biggest — and most important — industry shakeup in recent years has occurred in fabric. New blends and fabrications hit the market regularly, with suppliers looking to offer the perfect balance of quality, price, softness and, of course, printability.
According to Barry, tri-blends and cotton/polyester blends will be sought-after fabrications this year. "Both of these fabrications feature soft blends with subtle texture, and offer the end customer a fashion-forward and cost-effective tee," she says.
Seymour, too, sees polyester's influence continuing to grow. "There was a time when 100% cotton represented the premium side of the T-shirt business and polyester represented the value side of the business," he says. "And now, polyester — whether 100% or blends — has become part of the equation for better-made products."
While tri-blend and poly/cotton T-shirts will continue to push forward this year, cotton still has its place in the market. "I expect cotton to remain the highest sought-after fabric," Bonner says. "Cotton is just simple and remains the easiest fabric for new brands to start with."
These fabrics will be available in a range of colors, including traditional and on-trend hues ranging from black and charcoal to vintage pastels and earth tones, according to suppliers.
T-shirts, while basic by nature, offer endless possibilities. "Everyone wears or has worn a T-shirt," White says. "A person's individual style is defined by how they are wearing it. It is comfortable, easy to wear and accessible to all." 
---
With the right marketing and selling strategies, this burgeoning category can bring big business to your shop.
FULL STORY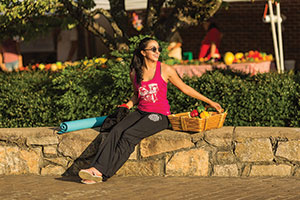 Technology, e-commerce, fast delivery and customer engagement currently are hot retail topics, but these trends go beyond the business-to-consumer world.
FULL STORY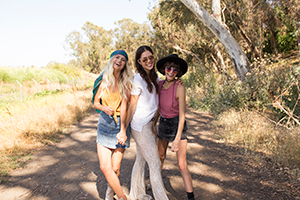 It can be argued that trends don't bob and weave in any other industry segments as frequently as in the childrenswear and teens/tweens apparel categories.
FULL STORY