Build Your Business: Trends

---
Pumping Up Performancewear Profits
Garments and decoration courtesy of Transfer Express; Photography by Chris Aluka Berry, Tucker, Ga.
---
With prominent athletic-focused brands leading the charge, performancewear has experienced dramatic growth in the past decade. More wholesale brands have added performance-focused lines to their offerings, creating endless options for customers — from unique, high-end styles to more basic, affordable ones.
As the category continues to become more accessible and widespread, decorators must ensure they not only understand the intricacies of the products, but also that they accurately convey their value to customers. This category shows no signs of slowing down, so it's time to build it into your business and run with it.
Adaptable Apparel
The performancewear category, once dominated by sports-focused apparel, has seen a recent shift that has resulted in booming sales. "Over the last five years, versatility has become more important," says Marcus Davis, product development manager, Champion. "Consumers want performancewear that they can wear from activity to activity — and even throughout their day."
With the broadening of this category — including the explosion of subcategories such as athleisure — sales have increased and are expected to reach $83 billion by 2020, according to Vince Winters, president, Elbowgrease Athletics. "The lure for brands and retailers is not just comfort; it's comfort plus performance attributes [that address] the need to feel comfortable all of the time, not just during athletic activities," he says.
To offer go-anywhere, do-anything function, the category — which once was limited to polyester wicking tees, and compression shirts and shorts — now includes every element of lifestyle apparel and a range of fabric blends beyond polyester. "Warm-ups, polos, socks — even underwear and headwear — boost the growth by reaching outward into expansive performancewear product offerings," says Mark Schwarb, Southeast regional sales manager, GroupeSTAHL.
Leisurewear is increasingly popular, with layering pieces, women's leggings and performance tights in high demand. Performancewear even is making its way into unexpected markets, such as the corporate channel, where performance-level shirts and polos frequently are requested, according to suppliers.
While the options seem endless, suppliers agree that performance tees continue to drive sales. "The T-shirt will continue to lead the category and there are many low-cost options today driving higher volume," says Matt Murphy, vice president of marketing, Russell Athletic. "The consumer will continue to want more as new features are added to the T-shirt, allowing higher prices and more profitable sales."
Understand & Educate
The abundance of options makes the performancewear category increasingly accessible, but also leaves decorators in uncharted sales territory.
"One challenge is knowing what is truly performancewear," Davis says. "The market [for] poly tees is loaded, for example, but not all perform at the same level. If you sell something as [performancewear] and it's not, you'll lose that customer."
Beyond knowing and understanding the products you sell, it's imperative to pass that knowledge on to customers because not every customer will know the many functional attributes and levels of performancewear available.
"It is important to keep it simple and use visuals in educating customers," Murphy says. "Your website must offer product detail that is easy to understand and, where possible, offer videos that can sell the products for you."
Murphy also suggests highlighting positive product reviews, and using direct-mail pieces and e-blasts to inform customers of new and exciting products. "It should be about showing how your customers can buy performance apparel over other traditional categories and what they can expect in terms of added value," he says.
As far as sharing information, Schwarb suggests using selling points from suppliers' websites. "Take snippets and add [them] to your own site, create fliers, heat decorate your samples with the features right on the garment," he says. "Do research to find who is scientifically studying performancewear and use that data to close the sale."
In-$tore $elling
When selling performancewear to customers in your store, carefully craft a message and present products in interesting, attention-grabbing ways. Provide a narrative and help customers see the big picture.
"If the fabric has a technology built into it, then tell the story about it," says Winters, adding that an effective performancewear presentation should not only highlight what the fabrics do, but also offer a full-package solution.
Merchandise tops and bottoms together, and put time and consideration into how pieces can be paired. "It is important to think about the cut of the different garments when merchandising performancewear," says Kristin M. Slinn, director of merchandising, Boxercraft, emphasizing that attention to detail goes a long way. "Most women like a longer length or tunic-length top with their leggings. Also, the performancewear category is not shy when it comes to color and prints, so it is good to have a least one solid [color] to ground your well-merchandised story if you are going to include prints into the mix."
Visual merchandising also is a great tool for upselling. "Performance apparel is a high-
engagement category, so people are looking for more than just a single item," says Murphy, suggesting that decorators offer promotions for multiple items bought at a time.
To target customers shopping for complementary apparel and accessory items — and grab the attention of those who may not know they want more — merchandise the expected with the unexpected. "Poly tees and fleece may be your default display or marketing push, but think beyond traditional and show new silhouettes and a variety of fabrications," Davis says.
With its "everyday-wear" appeal, performancewear upselling options are endless. "Never neglect travel bags and backpacks, spirit blankets, socks, fanwear and decals," Schwarb says. "If you are going to [show] a model wearing performancewear, always, always, always add the accessories — a cap, bag or laptop case — and you must decorate these items so the conversation of how you will address the logos can start."
Race to Innovate
"Performancewear is a mainstay in wardrobes, and the technology and innovation will continue to expand this category," Slinn says. "The product will have to keep up with the retail 'fast-fashion' model and will need to flow in and out quickly, or have new and fresh updates to remain relevant and trendy for the customer."
Within the next few years, the race to innovate will be the category's primary growth engine, according to Murphy. "We are already seeing new technologies at retail and the category itself continues to evolve with how it is defined," he says, offering that sustainable fibers and fabrications, as well as workout-recovery attributes, will be continuing trends.
Winters, too, sees new fabrics, finishes, blends, fiber-extrusion processes and cooling yarns, along with a wave of next-generation "smart" technology — where electronic devices are integrated into apparel — in the near future. "[Smart technology is] going mainstream, touching all levels of the apparel industry," he says. "It started in athletics, so performancewear will carry the torch for more growth in the years to come."
Technology and athletic performance's integration with lifestyle apparel will continue to push innovation and sales opportunities, according to suppliers. "Fashion designers and popular leisurewear brands have embraced performancewear," Schwarb says. "It is a sure thing all this will change how sports, urban brands and fashion apparel evolve. We can all place good bets that customers will come calling for advances in performancewear for many years to come."
Selling Performancewear
There are many factors to consider when establishing pricing for performancewear. Here are a few tips for developing your strategy.
1. Consider the decoration. One thing to take into account when setting prices is the type of decoration the garment requires. "This can be an effective selling approach considering all the sublimation in the market today," says Matt Murphy, vice president of marketing, Russell Athletic. "The types of 
designs produced on polyester performance apparel are remarkable and the attributes of the garments should be highlighted once those designs capture the customer's attention."

According to Mark Schwarb, southeast regional sales manager, GroupeSTAHL, it could be argued that an explanation of how the decoration will be accomplished ultimately will land the sale. "Inform [customers] this is different than a cotton tee," he says. "Explaining what process you'll use and why it is necessary for performancewear elevates your customer's confidence level."
2. Think "better" and "best". It's important to create differentiation among your offerings, according to 
Murphy. "Think in terms of a 'better' and 'best' mentality," he says. "Promote and highlight at these levels while carrying more basic and core pieces when needed." 

Most customers are willing to pay a premium price for performancewear, but you still should have options. "This is where upselling comes to mind as a strategy that can be employed, or downselling if price is a concern — either way, provide the customer with the right performance garment to meet their needs," says Vince Winters, president, Elbowgrease Athletics.
3. Use dollar sense. "I see movement away from pricing by margin to pricing by dollars," Schwarb says. After you decorate an item, evaluate its perceived value. "So what if it only costs a few cents to make it look great?" he says. "That doesn't mean you need to price it low based on a theorized margin."

Schwarb also warns against discounting labor. "It's in the decorating shop that your profit gets drained because of time, labor and equipment," he says. "If you must discount, do it on the easy-to-handle side: the garment."
---
Ah, the office. Suits, ties, pressed shirts and business meetings in stuffy boardrooms.
FULL STORY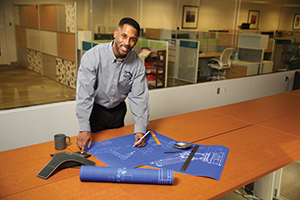 What's the first thing that comes to mind when you think about the T-shirt's role in a wardrobe? There's more than one answer, right?
FULL STORY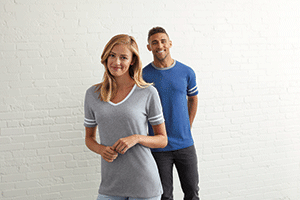 Technology, e-commerce, fast delivery and customer engagement currently are hot retail topics, but these trends go beyond the business-to-consumer world.
FULL STORY