Build Your Business: Trends

---
Cut from the Same Cloth
Suppliers explore how modern wholesale business models and product offerings resemble those found in the retail sector.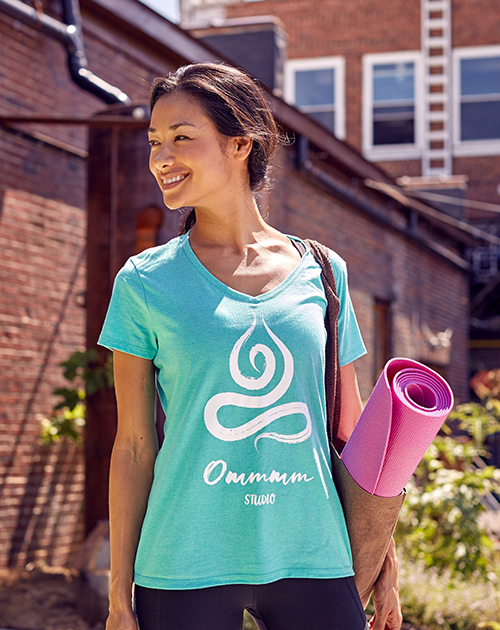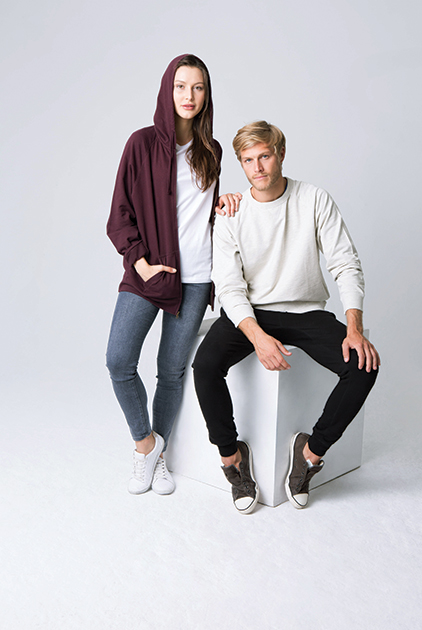 Technology, e-commerce, fast delivery and customer engagement currently are hot retail topics, but these trends go beyond the business-to-consumer world. As the line between retail and wholesale continues to blur, the imprintables industry is working to deliver the options, speed and seamlessly integrated sales channels that retail-minded customers expect.
Wholesale clients' style preferences also continue to move away from traditional basics and toward more fashion-forward looks, with streetwear and athleisure styles, soft-hand fabrics and retail-like color palettes permeating supplier offerings. The challenge? Delivering these fashion details without sacrificing printability.
To find out more about how retail is influencing the wholesale industry — and get a forecast of any shifts that may lie ahead — Impressions sat down with Nabeel Amin, president, Lane Seven Apparel; Abe Anteby, president, Threadfast Apparel; Mark Seymour, chief sales officer, Next Level Apparel; and Ken White, vice president of sales, Cotton Heritage.
Following is what they had to say.
Impressions: How has retail's influence on the wholesale market evolved during the past year?
Nabeel Amin: Over the past year, the retail landscape has seen a massive shift from brick-and-mortar stores to e-commerce, which has led to collection of relevant data with outlooks into buying patterns. This helps a great deal in not only planning and projections, but provides a cleaner and closer view into the latest trends hitting the market.
Abe Anteby: The tremendous upheaval in the retail brick-and-mortar space continues to gain momentum. Millennials default to e-commerce purchases, and will only venture into a retail location if it offers a unique experience. We see this spilling over into the wholesale market. The brands that will succeed are those that establish relationships with their customer base, engage their customers through multiple platforms and establish an emotional connection to their products.
Ken White: We need to be very reactionary. Quick response to trends is required. The downturn in department-store business has had an effect on wholesale. A lot of business is now driven by online specialty offerings, large or small.
Impressions: What are the biggest retail-inspired apparel trends you currently see at wholesale?
NA: We see a lot of new bright colors, cropped tops and a significant shift away from just basics. Different washes and finishes on apparel is another great trend moving into the wholesale industry right now. There is a significant move toward "athleisure" and streetwear-oriented products.
AA: Some of the strongest trends we're seeing at retail right now are a continued focus on elevated fabrics and, somewhat related, novelty garment washes and dyes are very hot. Mineral wash, burnout wash, and even '60s tie-dyes, have been very strong for summer and back-to-school.
KW: Athleisure. Tech features initially drove it, but now the aesthetic appeal has taken over.
Mark Seymour: Athleisure, sustainability, lightweight fleece and festival-inspired styles.
Impressions: How do you create styles that appeal to fashion-forward end users while still meeting decorators' needs?
NA: We have introduced new product lines with mineral washes this year to get closer to having a more fashion-forward product line. In creating these styles, one of our main interests was ensuring that the printability of the product remains intact regardless of the processes it goes through.
AA: While retail response time for fast-fashion continues to get compressed, a product launch in the imprintables market takes considerable time. Therefore, when curating our new-product launches, we ensure that any new fashion piece has staying power. We then focus on decorators' need for easy embellishment and consistency.
KW: Everything is designed with an understanding of printing and decorating the final product. Details like necklines and raglan sleeve placement are all taken into account when designing for the decoration space.
Impressions: Recent technological advancements give decorators the ability to deliver the retail-like, custom apparel that today's customers desire. What are you doing to help decorators meet this demand?
NA: Lane Seven has introduced a number of different products in 2017 that are more aligned with today's trends. In creating these new styles, we have maintained focus on printability. For example, our new three-end fleece hoodie comes with a 100% cotton face, which is perfect for DTG printing.
AA: In addition to building garments that perform really well for both DTG and sublimation, the most important way we help
decorators meet this demand is by providing them with retail-inspired silhouettes. We have some surprising products coming out in our 2018 collection that continue to push the envelope.
KW: We always continue to strive to deliver better quality. All Cotton Heritage products are manufactured using combed, ring-spun cotton and are washed using our proprietary method to provide an ultra-soft feel. This process creates a garment with superior printability and unbelievable comfort.
MS: We have always offered a great print surface on all our fabrications. This is more important today than ever with new digital-printing and soft-hand techniques. It costs more to bring this level of quality to the market, but over time, Next Level Apparel has proven that customers will embrace the better product and sell the value to the end user.
Impressions: A major trend, both at retail and in wholesale, is the casualization of fashion, or the athleisure movement. How do you expect this area to change in 2018?
NA: I believe athleisure is still new and has huge room for growth. We should be seeing a lot of companies taking on this category with new silhouettes and performance characteristics.
AA: The imprintables market has witnessed an explosion of performance apparel over the past few years as a response to a strong trend that moved through retail, with exercise pants and leggings replacing denim. What we will see in 2018 is product attributes that were previously limited to true performancewear starting to appear in "casual fashion" — more spandex jersey, but in relaxed silhouettes. Polyester [will show] up in unexpected places, and yes, [there will be] a resurgence of next-generation denim.
KW: We see it growing both as a technical aspect and also from a look standpoint. It is most noticeable in the junior market, where the specs are loosening up.
MS: I see this as one of the most important trends and it is influencing almost everything we design. A great example is the new mock twist style. We offer a men's raglan short-sleeve and unisex pullover hoodie that will go straight from the gym to the street, or as one customer noted, "from the gym to the grocery store."
Impressions: Retail has seen a proliferation of transparent, sustainably conscious brands in recent years. Have you seen this same shift at wholesale?
AA: Many retail brands have been able to build their brand DNA based on "green products" and have developed a loyal customer base willing to pay a premium. I do not see many brands that have succeeded in the same way on a large scale in the wholesale market. Here, the challenge is to deliver these product attributes, but without a premium. We started evaluating the BCI [Better Cotton Initiative] platform as a possible vehicle for us to do just that.
KW: We have seen this shift as a requirement from our retail customers. In recent years, we have seen more requests for documentation and testing of our products from testing facilities, like Bureau Varatas. They work with us to make sure all of our fabrics are compliant to sustainability and safety standards. We are focused and tuned into this direction, as we are WRAP-certified.
MS: This is an important trend and a personal crusade for me. I have 18- and 20-year-old [kids] that have taught me not only the importance of sustainability, but also the significance their generation places on sustainability when making a buying decision. Our industry does not have a great track record in this area for three important reasons. I believe that a sustainable option must also offer value, fit current fashion standards and be available in deep inventory.
Impressions: Free and expedited shipping are no longer options, but requirements for today's retail consumers. Are you seeing this same demand for speed on the wholesale level?
NA: Everyone wants free shipping. However, we have seen a particular push toward expedited shipping in the recent months on the wholesale level, as more brands monitor trends closely and want to get their products just right in light of the current trends.
AA: Yes, and the industry is very well-positioned to deliver. The distributor network serves a vital role in providing "Amazon-Prime-or-better" service levels. While many brands are questioning the role these distributors play and are trying to go direct, we are strengthening our partnership with alphabroder, our exclusive distributor. We view their geographic footprint and logistics expertise as a strong strategic complement to our product mix.
MS: Absolutely. For this reason, we believe in deep "at-once" inventory and a strong partnership with our wholesale distribution partners. With more than 40 locations in the United States and deep available at-once inventory, the customer can get our product next day with great regularity and confidence.
Impressions: What future retail trends do you predict will have an impact on the wholesale industry?
NA: In the recent past, we have seen a significant increase in demand for streetwear-oriented products, and [a move] away from basic colors. More distressed looks, more finishes and color processes — anything that is not basic should have an impact.
AA: The retail community is absorbing the first wave of disruptive technology, a lot of which is showing up in sectors that are not apparel. The retailers that will survive will embrace technology as the single most important aspect of their business models. We will start to feel this on the wholesale side of the business as well. Virtual dressing rooms, artificial intelligence and big data forecasting demand, augmented reality replacing presentation catalogs in the ASI industry, the fully automated sewing line — it's all coming.
KW: We are seeing a trend of the junior market demanding silhouettes that were previously known for the male or unisex spec, but changed up to be available in more of a feminine color palette and decorated specifically for women.
MS: Soft, lightweight fleece is a huge retail trend. We launched a lightweight-fleece line in 2016 and will be on a major expansion phase over the next three years. Ultra-soft, T-shirt-weight and midweight fleece [also] are in high demand, and can be worn as layers throughout the year. Finally, festival wear is influencing our line in a big way.
---
With the right marketing and selling strategies, this burgeoning category can bring big business to your shop.
FULL STORY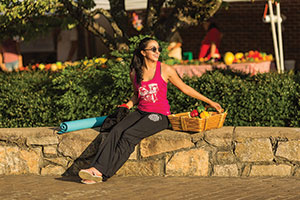 It can be argued that trends don't bob and weave in any other industry segments as frequently as in the childrenswear and teens/tweens apparel categories.
FULL STORY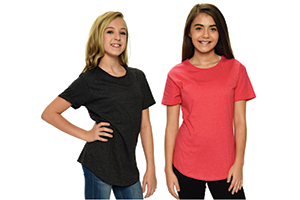 It's a simple case of déjà vu. That's what fleecewear manufacturers will tell you when describing what's happening in the category today.
FULL STORY