Build Your Business: Shop Talk

---
All in the Family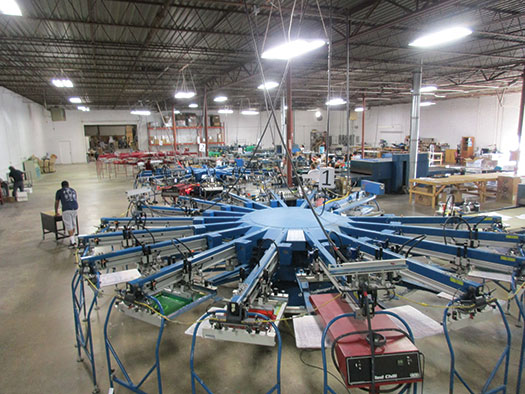 The company uses 20,000 square feet of its space for production, while the other 15,000 square feet are dedicated to warehousing and receiving.
---
More than 200 years of experience. It sounds even more impressive when you say it out loud, which is something Josh Hewitt loves to do.
Ask the owner of 3JG Printing what makes this family business tick, and he'll rave about the proficiency and talent surrounding his team. Scott Hayes (the "King of Color") and Isaac Block (the "Workhorse") are extraordinary artists and color separators. Ashley Harrell can draw anything by hand and is an Adobe Photoshop whiz. Production Manager Carlos Batres works wonders with the company's screen-printing presses, while Operations Manager Rick Anderson creates a process and place for everything.
There are so many other team members that Hewitt says make 3JG Printing the pride and joy of Garland, Texas. But the driving force is Hewitt, who — along with his wife, Joanna, mother, Julie and father, Gary — keep the 3JG Printing 
machine seamlessly churning along. In fact, the first letter in each of their first names make up the company's name.
'No Regrets'
The journey started 10 years ago when Hewitt, unhappy with his role in another screen-printing partnership, first pondered starting his own shop. But to do it, he needed partners in whom he could believe.
"Why not my family?" he asked himself.
"In the beginning, my mother was our customer-service representative, my wife was our CFO, and my father did anything and everything that needed to be done," Hewitt recalls.
A few years later, he and Joanna bought his parents out and took full ownership of the operation. "It was just easier to have two people instead of four on board to make those sometimes-tough decisions," Hewitt says. "Eventually, things got easier and the orders kept coming in. We were able to hire more people to do the day-to-day things, as well as [invest in] more equipment. There have been no regrets."
A couple of years down the road, the Hewitts made the next big leap and purchased a 35,000-square-foot building, which they remodeled. Right now, 20,000 square feet of the space are used for production, while the other 15,000 square feet are dedicated to warehousing and receiving.
The company serves mainly small- to medium-sized ad-specialty/promotional agencies — comprising nearly 90% of its business — with a 35-person, full-time team. Specializing in simulated process printing, 3JG runs six automatic presses, five of which are from M&R and one of which is from Anatol. The company also operates a Hopkins manual press, a roll-to-roll HIX heat press and four Insta clam-shell heat presses. It also has a KIWO I-Jet computer-to-screen unit with an 8K Olec for exposure. Printing is done with standard plastisol and water-based inks.
In addition, 3JG offers a relabeling program that uses a reel-to-reel application for private-label custom jobs, and ever-growing heat-printing capabilities.
A Company of the People
Hewitt still remembers the request: a one-day turnaround on a T-shirt order for a 1-year-old boy scheduled for heart surgery the following morning. His family wanted to show support by wearing shirts that read, "Preston Has the Heart of a Warrior."
"Before the surgery, they sent me a signed photo of everybody, including little Preston, wearing the shirts," Hewitt says. "Right now, the picture is the best. It is close to my heart."
It's that kind of customer service that continues to make 3JG one of the most skilled and sought-after screen-printing companies in the Dallas/Fort Worth, Texas, area. For such small companies, word-of-mouth advertising and customer 
engagement are keys to winning in today's ultra-competitive landscape.
"We ask our current clientele if they know anyone who could benefit from our services," Hewitt says. "We strive to treat people well."
The business' tenets mandate providing quality products and service, competitive pricing and on-time delivery. "It's taken several years, but the new customers keep coming," Hewitt says. "Occasionally, I'll make a cold call and we always keep in touch with customers to see what they're up to. It can be challenging to win over a new customer, but if you can [stick to] those four fundamental rules in business, you'll have the opportunity to be successful."
Another way to keep customers happy is proving you can work with any request that comes your way. On its website, 3JG boldly says it can print "almost anything" — a statement that occasionally gets pushed to the limit.
"I remember we had a five-color, allover, front-and-back job using water-based discharge printing on a 1995 M&R pneumatic Challenger I," Hewitt says. "At the time, we only had two presses, and this was our first allover job. The machine was not made to print that big, so we had converted five heads with longer stoke cylinders and purchased enough allover pallets to fill the press up. We researched inline belt printers to see how it was done, and then we started printing. The key to water-based discharge is don't stop printing, so to do that, we had to add three people to help prep shirts for the loading process."
Last year, 3JG landed a 100,000-shirt, front-and-back order. The twist: It had to be delivered in one week, right in the middle of the company's busy season.
"We were already running one and one-half shifts, so we had to step up to three shifts," Hewitt recalls. "Finding people was the difficult thing, so between our production manager, operations manager and myself, we had to keep five to six machines printing 24 hours a day. Each of us had to work half-days to manage the process."
They did it without skipping a beat or interfering with orders from regular local customers.
Hewitt says 3JG will keep working on its bottom line — a process that calls for continually upgrading its equipment and people. "This will make us more competitive in this ever-changing marketplace," he says. "We're also keeping an eye on ways to continually develop direct-to-garment [printing]. Who knows, we may make a leap into that market one of these days."
However, he says the mission never will stray from its foundation. "Our main plan for the future is to stay true to the company that was born in 2007," Hewitt says. "That goal was to excel at what we do and keep our customers happy."
So far, so good.
Michael J. Pallerino is an award-winning writer who has written for a number of national consumer and trade publications. For more information or to comment on this article, email Michael at mpallerino@gmail.com.
---
Portland's at-risk youth get job training and useful workplace skills through screen printing thanks to this local nonprofit.
FULL STORY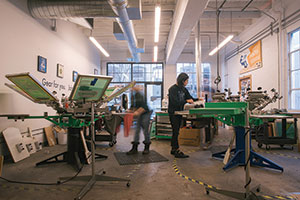 At first glance, Virginia Beach,Virginia-based Surf and Adventure Co.'s past appears rather complicated. But based on the retail shop's current status, it seems that its history has positioned the printing business for a solid future.
FULL STORY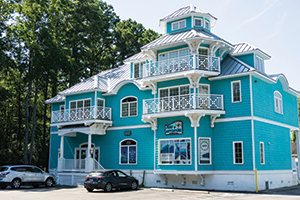 She smokes cigars and drives fast cars. But looking past the wafting smoke clouds and revving engines reveals a different side of Suzanne Whatley, owner of Branding Matters! LLC.
FULL STORY